18 May 2020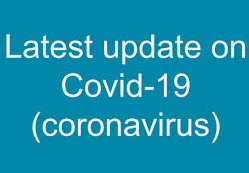 Dear Parents of EY, Y1 and Y6, 18.5.20
After the letters I sent out to parents last week, I just wanted to communicate with you the intended plans for your children should you choose to bring them back to school.
All of the EY, Y1 and Y6 children will be given the opportunity to return to school from Monday 8th June. The places in school will be full time – with some slight variations on the day so we can avoid there being too many parents on the playground.
EY have been split into 3 groups of no more than 15 and will be taught by Miss Szoltysek, Miss Collinson and Mrs Frost. Each group will also have a TA. They will be taught in the reception and nursery classes.
Nursery will remain in their groups for the morning and afternoon, with slightly different start times of 8.45 – 11.30 and 12.15 – 3pm. If reception numbers returning are high, the nursery will be taught in the mobile classroom and parents will use the same entry and exit as Y6.
Y1 are split into 3 groups of no more than 15 and will be taught by Miss Arrowsmith, Miss Lanigan and Mrs Simpson/Mrs Pearson. Each group will have a TA.
Y6 are split into 4 groups of no more than 15 and will be taught by Miss Andrew, Miss Evans, Mr Bennett and Miss Burgess. Each group will have a TA.
The groups have been decided upon by the class teacher, and will not be changed by parent request – decisions have been made and any alterations could have an impact on how the school has been set up to meet risk assessments. Please do not ask for children to be moved.
The before and after school club (FACE club) run by Mrs Higgy will not be in operation until the September.
Here are some timings and considerations which you may want to discuss with the class teachers when they ring this week:
School gates will open at 8.30am – doors will open at 8.40am. There will be spots on the playground to stand on if you arrive early. If there are no spots available – there are 2m markers attached to the fences outside school where you can line up.

EY and Y1 parents to enter through the main entrance gates and exit via EY gates. Y6 to enter through Water Lane gates and exit through Manchester Road gates.

Avoid bringing any prams/ pushchairs or smaller siblings to drop off and pick – up. If it is unavoidable, make sure little ones are in a pushchair or on reins. They cannot run around the playground.

Y6 children who do not have siblings in EY or Y1 will be leaving the building at 2.50pm. Parents can either allow then to make their way home on their own, or can pick them up. Y6 enter through Water Lane and use the spots to stand on. Leave through the Manchester Road gate.
Y6 children who do have siblings in EY and Y1 will leave at 3pm and go to stand on spots on the KS1 playground. Parents can pick these children up together from 3pm.
Children in EY and Y1 who do not have a Y6 sibling will leave at 3.10pm.

Keyworker children will be picked up from classes at 2.45pm and will not be able to be picked up until after 3.30pm.

Children need to bring full PE kit on day 1 and leave it in school until summer.

Children MUST NOT bring anything in from home except the PE kit and packed lunch.

All bags, coats and packed lunches will be kept in lockers.

All home learning will be through Teams.

There will be no trips, visits or events held in school. We will arrange something for after the summer for our Y6 children who would usually have had many events on the run up to the summer break.

The free school meals vouchers for children in Reception, Y1 and Y6 will stop on the 22nd May. This is because these children now have their free school meal offer in school. If parents choose to not send children in, they will not receive any FSM offer.

I must make it clear that if children are kept at home there will be no on line learning offer. This is because all staff will be in school with the children or at home providing on line learning for those children not allowed back in to school.

If parents choose to keep children at home – this must be for the duration of the academic year. We cannot add to groups further into the term.

If parents send children into school and then change their minds – that is fine.

If anyone in your household becomes ill or shows symptoms of the virus you MUST inform us immediately. Any member of the class who shows sign of COVID will be asked to isolate for 7 days, or until a negative test id produced. A confirmed case in any household will cause that group to be sent home to isolate for 14 days. Please bear this in mind if you are planning a return to work.

Parents must not visit the office. If you are late for school your child/ren will be signed in by staff and taken over to class from the gates. Any contact required with school should be done through Teams or via phone call/ e mail.

School uniform will be worn by all children from the 8th – including keyworker children.
If you have any questions regarding this information, please do not hesitate to contact school through the office@mrpa.org.uk mail system
Clear signage and reminders will be placed around the school building, and I hope that parents and families understand the need for us all to work together, and to follow the rules closely to reduce the risk of infection. It may mean lots of walking in and out of different gates – but for now, this is how it must be to keep safe.
Please ensure you are polite and respectful to staff requests to follow the rules.
Thank You again for your on - going support, and I hope to see many of you from Monday 8th June,
Joanne Taylor
Principal MRPA