3 June 2020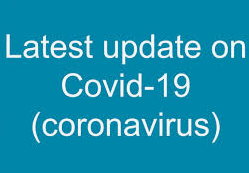 Good Morning to all our Families,
I am writing with further information regarding the partial opening of school on Monday 8th June.
We are really looking forward to welcoming children and staff back to Manchester Road after such a long period of time. During this period staff have worked really hard on providing on - line learning, and on maintaining contact with the children in their class. They have also been in whilst we've opened every day from 8-4 for the children of key workers.
For some of our most vulnerable children, weekly calls have been made to ensure that families do not need anything that we could help out with.
I would like to thank all our team for making such a valuable contribution to the running of Manchester Road over the past 10 weeks - including the office, site and kitchen staff. Everyone plays an important part.
As we now return slowly to some kind of normality, it is important to bear in mind the different experiences that families and staff will have had of this unique situation. Some families will have had a great time - learning new skills, finding new walks, star - gazing and watching rockets!! Other families will have found the time difficult - with financial, emotional and social difficulties. When we do return next week (for EY, Y1 and Y6) we will be very much considering this in our learning.
The return to school will feel very different - but the learning the children will undertake will be familiar. In EY and Y1 there will be a focus on reading and phonics - working to ensure children have the best opportunities to practice these before breaking for summer. In the Key worker groups, there will be a return to more formal lessons - English, mathematics, geography, history and science. All children in school will be taking part in PE, and so will need a PE kit. In year 6 there will be an emphasis on transitions to high school and some English projects - this is really important in ensuring the children are ready for their next step in education. If your child has been in the key worker group, and is to return from next week - please do have a conversation with them about the changes, as it will feel very different.
For many different reasons, some families are not sending children to school, and we fully support this. As a parent, it is important to do what you feel is best for yourself and your family members. If at any point you would like your child/ren to attend school you MUST give school at least 5 days notice so that we can ensure staffing and space is adequate. Whilst at home, it is really important that children keep on learning - the TEAMS classrooms have many ideas for how to keep learning going. This is especially important for those children in EY, Y1 and Y6 who will no longer have learning posted by their teachers each day.
The government guidance is changing quite quickly, and I must remind parents that social distancing is so very important in maintaining a safe environment in school. If your child is returning to school it is VITAL that you follow these guidelines. Children and families should not be meeting anyone out of their household at a distance of less than 2m. Any meetings should be outside, and with no more than 6 people. Travel should be for essential business only. It can be difficult in nice weather- but please understand that by mixing with others at a close distance - even family members - you could be risking the health of children and staff in school. Any suspected cases will result in classes closing for 2 weeks. This is something to bear in mind when sending children back to school... Who will look after the children if their classroom is closed?
All children will be in uniform, including the keyworker children. Children can bring a packed lunch to school if they wish, and from the 8th all school meals will need to be paid for unless your child/ren is on free school meals. Please remember our healthy food policy - no sweets or sugary drinks and only one small biscuit in each packed lunch.
On line learning will continue for children in Y2,3,4 and 5 - but again, it will look quite different. Children will need to collect exercise books from school so they have somewhere to record their learning.
IF YOU HAVE NOT DONE SO ALREADY - PLEASE PICK THE BOOKS UP TODAY
When we do return, we have to complete a register for the DfE. Please could you inform us immediately if your children are NOT attending school because of one of the following reasons:
A family member is ill with suspected or confirmed COVID 19.

A family member is ill but not suspected or symptoms of COVID 19

If any family member is shielding for themselves or someone else in the household.
Finally, I would like to thank all families and parents who have contacted school and have posted on social media with positive messages for the team - it really has lifted our spirits