17 June 2020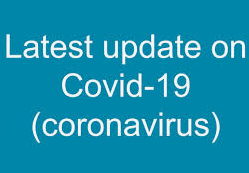 17.6.20
Dear Parents/ Carers,
I'd again like to update you the school's current position regarding re – opening on Monday 22nd June, and potential wider opening from Monday 29th June.
After an initial low number of children in our keyworker group, we are now happy to be welcoming around 40 children in to school each day. They are happy and are learning well. It's great to have children back in school enjoying being with their friends and teachers.
We are expecting around half of the EY, Y1 and Y6 children back this Monday (so around 100 children), and we can't wait to see them all!! If you are a parent of a child in these year groups, we would really like them to be in school attending J.
If you initially told school you do not want your child/ren to attend and have now changed you mind and would like your child/ren to attend school, please contact school by Friday 19th June by mid day so we can organise new bubbles if necessary.

If you have already told your class teacher that they will be attending, they will already be on the list and you do not need to contact school.

If children come to school and they are not on the list, this will make things very difficult to organise on the spot and they will be sent home until the following day – we need at least 1 day notice if children are to return.

Any children in EY, Y1 and Y6 who have not attended school by Friday 26th June will not be able to attend for the rest of the summer term.
The plans put in place are thorough, and I feel reduce the risks associated with the spread of COVID 19 within school.
Children are in small groups, and are supervised within a 'bubble' of no more than 15. The school has followed all the government and Trust guidance to allow children back to school in the safest way possible.
We are pleased to be welcoming back our IT provision, Mr Smith will be doing PE sessions, and the music service will resume – all of these are done with the necessary risk assessments in place.
Once all the key worker and priority groups are in school, we can then start to look at wider opening for the last 3 weeks of the half term. This may involve more year groups returning to school for this short period of time before the end of the year. This will only be possible if there are enough staff to set up more groups, and if there are classrooms spare. Information regarding this will be sent out as soon as it is available.
If the priority groups return and the key worker groups grow rapidly, the school may (in exceptional circumstances) have to reduce the priority year groups in school as the keyworker group will take priority over all others. If this does happen, the Y6 children will no longer be able to stay in school. I am strongly hoping this will not happen – as we have planned really carefully and have staffed according to the numbers parents have given to us, with some spare room.
ON LINE LEARNING PLATFORM
Our on line platform has been up and running now since the 23rd March. It really so important that all children access the learning on there and keep in touch with the teacher and their class mates.
I know that this can be tough, as the children are now getting tired and may be finding it difficult to keep up interest. We have seen some amazing learning on there, and we're always so pleased to see children chatting and sharing their ideas. This needs to keep up!!! At the moment, we have VERY low numbers accessing the platform – and this is a real shame. PLEASE get your children on line so they can join in and keep up with their learning J
As usual, if you have any issues that need resolving, we can do this easily from school.
As we now come to the end of what has been a very unusual time, I would again like to thank all families for your support and ongoing kind wishes. I am so proud of what the whole school community has achieved over the last few weeks, and I hope to make the next few just as amazing.
Thank You,
Joanne Taylor